You got questions? We got answers. I hope! Call or email us if this hasn't helped.
How to get in touch with us?
Call us at 604-815-3403 during daytime hours and we will do our best to answer any questions you have. Or email us at squamish@crashhotel.com and we will get back to you within 24- 48 hours.
Is the hotel loud?
Yes, the Crash Hotel Squamish can be very LOUD… especially on weekends. Not all rooms,, but definitely the ones we mentioned noise impacted.  We are located in the heart of Squamish's downtown nightlife, above the most happening bar and nightclub around.
How can we access our room?
Your access is in your hand. With the new futuristic system in the hotel, you can hold a grip to your access. It's easy as 1 2 3.
All you need to do is click the link that was sent to you during your check-in and your access will be there.
Watch the video below to get an insight on how to navigate your access in your phone.
Is there a front desk?
Not really. We are moving towards a virtual concierge model. That being said, there is a human behind everything and we do our best to be at the front desk and available during peak daytime hours to help you in any way we can.
How do we check in?
We have the latest in hotel technology and gone completely virtual. Right after you booked, you will receive an email with a registration card. Please complete that prior to your stay. It needs to be complete to get your room key. 
At 8am on the morning of your arrival we will send you a text message with details on your stay. At 3pm, it will automatically update and offer you a digital room key– where your phone will be your key for your stay. How cool is that?
If you did not get a message from us after book or do not have a smartphone, please call or email us and we can get you sorted out.
Where do we park?
Crash Squamish does not have any onsite parking. However, there are on street options nearby.
Street Parking In-front of the Hotel
For less than two hours, the street in front of the hotel usually has parking. This is a great option to unload your vehicle and get your items to your room. Most of our guest park here and I haven't heard of anyone getting ticketed in the Winter and Spring months.
Two Blocks Behind the Hotel on 3rd Ave
If you are a cautious type, all good. For all day and overnight, please see the map and park in the purple zones along third avenue, just behind the hotel.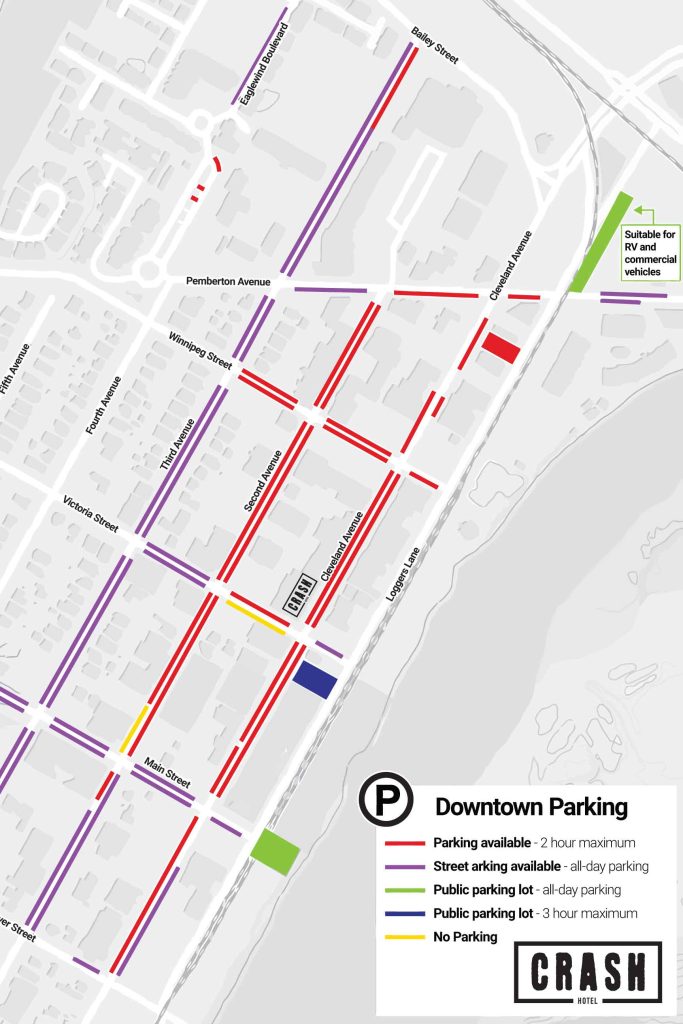 How do we get to the hotel? Are you near Vancouver or Whistler? 
We are a hotel close to Whistler. We are also a hotel close to Vancouver. We are right in the middle.
If you have a vehicle, put our address into Google maps and you are good to go: 38005 Cleveland Ave, Squamish, BC V8B 0C3.
If you are looking to commute, there are some great options:
Can We Bring Our Pet?
Absolutely! We understand that pets are part of the family too. We're delighted to inform you that our hotel is dog-friendly. You're more than welcome to bring your furry friend along with you during your stay with us.
Make sure to let us know right away if you will be bringing your pet with you.
Please just remember to keep them on a leash while in public areas for the comfort and safety of all our guests.
*Pet charges might apply. 
Do you offer weekly or monthly rates?
We offer weekly rates on most rooms, most of the time. 
We offer monthly rates on some rooms, from October to April.
Call or email us with your request and we will get back to you.
What do we do in Squamish?
Hip adventure travelers in Squamish have endless opportunities to explore the great outdoors. From hiking the iconic Squamish Chief to mountain biking on world-renowned trails, there's something for everyone. For thrill-seekers, there's whitewater rafting, zip-lining, and bungee jumping. And when the sun sets, Squamish comes alive with a vibrant nightlife scene, including live music and craft breweries. For those looking to relax and unwind, Squamish offers plenty of opportunities to take in the stunning natural beauty, from kayaking on Howe Sound to taking a leisurely stroll through the town's charming streets. Whatever your adventure style, Squamish has something for you.
Explore Squamish is the main tourist website and the best starting place for information.